Extendicare Medex uses technology to bridge social distancing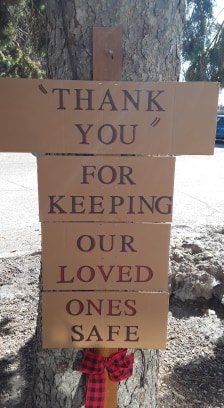 OTTAWA, March 23, 2020 – "Helping people live better" … That's the corporate mission of Extendicare, a Canada-wide chain of privately operated long-term care facilities. This has never been more important than during the current novel coronavirus (COVID-19) global pandemic.
At Medex, an Extendicare home on Baseline Road, family members may not visit loved ones unless they are very ill or require end-of-life care. Medex took this step on March 14 to protect the health and safety of seniors, the sector of the population most susceptible to the virus.
At the same time, Medex seeks to ensure the emotional and psychological well-being of seniors, and to combat loneliness and isolation. It has thus turned to social-media technology to bridge social distancing.
Recreation staff are using the Facebook Messenger app to help people to make video calls. This measure has been enthusiastically welcomed by family members who cannot keep in touch with residents by other means.
Making a difference, taking care of residents and loved ones, keeping everyone safe ... That's how Extendicare and Medex are fulfilling their mission as they meet their greatest challenge.
(Photo credit: Melanie Dea)
TESTIMONIALS FROM RESIDENTS AND FAMILY MEMBERS
"This Messenger app is a great asset. The families can see each other. They can tell, just by looking, how their loved ones are feeling. This is a huge bonus for families, as well as our residents. Under the circumstances, Medex is doing everything it can to keep us connected to our loved ones. To have that communication with families, at this time, is wonderful." – Barry Lemoine, co-president, Extendicare Medex Residents' Council
"I will download the Messenger app now and will call next week about setting up a time when my Dad can talk to my Mom. Thank you for helping me! I know you are all working very hard and struggling. We appreciate everything you are doing for our families. Be safe and take care of yourselves! So proud of all you guys. How we are staying connected with families is wonderful. Both my father and I appreciate everything you are doing to keep everyone safe. My mother was a nurse, and we realize how hard it must be. To be away from your families must be difficult for you all." – Susan Heighway, family member
"I no longer have someone at Medex but I wanted to congratulate you for the video call initiative. It will make a huge difference to families to be able to be face to face at this time. Thanks for all you do!" – Margaret Lavictoire, former family member
"We are very thrilled that Medex is doing the Messenger calls to communicate with families. We visit daily, and this is very hard for us. You are all doing a tremendous job, and we appreciate it very much. We thank you for closing down to visitors as quickly as you did. As always, we thank you for taking such good care of my mother." – Bob Jodoin, family member
Information: Tina Nault, Administrator, Extendicare Medex
tnault@extendicare.com
613-225-5650 ext. 101